While waiting for my next meal, here's a few of my favorite places that I would gladly go back to.
(There might be an obvious pattern to my faves):
CHICAGO
694 Wine & Spirits
: The staff will fulfill all your wine and cheese dreams and answer your queries. Oh did I mention that they have this dessert that blows your mind?! Chocolate+ cake+creme brulee+ caramel. My wish just got granted! I heard about their burgers, but I have yet to go back to try it out.
Aviary
: The drinks are presented like a production. The Ford Model was definitely a crowd pleaser, as smoke started billowing out of the teapot, turning our table into an enchanted forest of drinks. The Mad Hatter would approve of this tea party!
Ford's Model Tea Party bergamel, blood orange pu-erls, mandarin, gin.
The Bedford
: sometimes you just want to drink in a bank...and it feels so good
BridgehouseTavern
: bottomless brunch and chicken and waffles! If you happen to be cruising the Chicago river in your boat, they have a drive thru for boats (sorta). You can pre order and they bring the food to you. Or just dock it there too and climb up the ladder.
Carmines
:Giant plates of cheese and pasta. Need I say more?
Cedar Hotel
:Order a punch bowl and call it a staycation!
Great summer hangout. I always feel like I'm on a fake tropical vacation.
Eno
:Cheese, chocolate, and wine flights. Do I really need to explain?
Estate Ultra Lounge
:Oh! do you have a boat? Well ahoy on over fancy pants! You can dock while you dine.
Great Skyline views and this dessert called Champagne Supernova! It's cake pops served with sparklers. Go ahead celebrate YOU!!!
Full Moon Family Restaurant
: Yep! This little hole somehow haunts my brain with their omelets. I find myself craving them. It's a good stop on your way to Lake Geneva.
Girl and the Goat
:This is Top Chef Winner Stephanie Izard's genius. Get everything! You won't go wrong! My staples would be the sugo, pig face, shank, and the budino.
Graham Elliot
: Chicken and waffles! and their glazed bacon is amazing! It's got a neighborly rockstar vibe, complete with a shrine to the food gods (I have to find the Anthony Bourdain Candle next time)
Ing
:Where science meets the culinary arts. Molecular Gastronomy! Be ready for a creative and fun tasting menu with drink pairings. It's Motto's cousin.
J. Parker
: It's a roof to get your drinks and Vitamin D. It's a nice after lunch or pre-dinner hang.
Lockdown
: Dare I say that this place is better than Kuma's? Yep. I think it is. I'm in love with the Elvis Burger. It's got peanut butter, flambéed bananas in grand marnier and BACON!---Just try it! Trust me!!! You also get your pick of either fries or mac n cheese for a side. Also ask for their hot sauce!
Longman and Eagle
: Very down home hipster. They are known for their whiskey, and if you've had too much, you can book a room. Chicken and Waffles is my go to in this place, but I've stuck my fork in other plates, and I don't think there's such a thing as a bad choice...your whiskey hanger/morning after is a different story.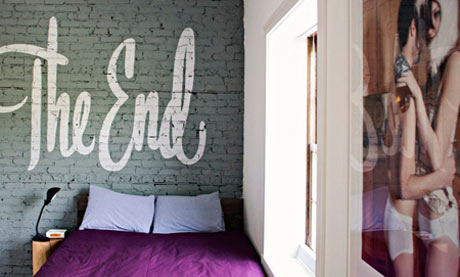 One of the rooms @ L&E
Nelcotte
: Rolling Stones inspired cocktails. The French villa decor makes it a great place for the girly girls to watch the games. They really do have the games on! Everything seems less baboon when lit by chandeliers.
Nomi
:The garden (up on a roof) is what draws me to this place. It's a great retreat if you're traipsing around the Mag Mile. Can't go wrong with the sushi and their Creamsicle Tumbler for dessert--hazelnut and tangerine combo...YUM!
Publican
: Anthony Bourdain approves of this place. If you're anti-social, make sure your reservations indicate that. They are all about the communal table. Great beer selection from all over the world and meat meat meat!!!
Pork Rinds @ Publican
Osteria via Stato
: For a moment there they were off my list...but the Pappardelle is back! I pretend to leave left overs when I order the full course, when deep in my belly, I could so find more room for more. It's a "sophisticaz" (sophisticated casual) place to have a week night "There's nothing to eat at home" dinner, or bring out of town guests who look wind blown from doing touristy things, but want something more refined than Olive Garden.
RPM
:Go in hopes to see G&B. JK!!!! Pappardelle again! The meatballs taste like mama's hugs down my food trap. For dessert, Bill's Budino is what my friend and I call "zex in a bowl." It's rich chocolate and salted caramel pudding-esque goodness with cocoa nibs. I love the
long sundae spoon
that you get to eat it with!
Sable
:Executive chef Heather Terhune was a Top Cheftestant. Chicken and waffles with bourbon maple syrup was my go to, and definitely in my list of yum. Their cocktail list reads like an epic life saga starring you! There's a drink for whatever fits you at that moment...Overworked and underpaid, Death in the afternoon, Rehab Doll...and soooo many more!
Table 52
: I was here for chef's week and all 4 courses, wait we turned it into 5...were all amazing! It's like dining in your southern belle aunt's mansion. You won't go home hungry nor disappointed. I'd go back for the fried chicken and maple bacon. If you're a bourbon fan, this is your hang. Did I mention that they have chicken and waffles?!
Yolk
: Red Velvet French Toast!!! I wish they accepted reservations. This place always has a crazy wait during the weekends. So go armed with a pocket full of sunshine and patience...or go on a random weekday. I'd say it's so worth the wait!